Working with infants, children, and adolescents can be a very rewarding career choice. Pediatric nurse practitioners (PNPs) have the opportunity to work closely with this population providing them with high-quality healthcare services. Not only must PNPs have a great rapport with children, but they also have to work well with parents or caregivers.
PNPs can provide primary or acute care to anyone under the age of 18. They can also work in a subspecialty such as oncology, cardiology, or neurology, depending on their education and work experience.
Typical workplaces for PNPs can include hospitals, outpatient clinics, private practices, government agencies, and public health clinics. Many PNPs may work in rural areas providing healthcare services in communities that don't have access to primary care.
To become a PNP, you must first be a registered nurse. Nurses will often have a few years of work experience in pediatrics or family practice caring for infants, children, and teens. To work as a PNP, nurses must complete a graduate program. These can include a master's of science in nursing (MSN), doctor of nursing practice (DNP), or a post-master's certificate.
According to the Bureau of Labor Statistics (BLS 2021), the demand for nurse practitioners in all fields is currently very high. Between 2020 and 2030, there is an estimated 52 percent increase in jobs in this field.
Furthermore, the National Association of Pediatric Nurse Practitioners (NAPNAP) states there is a severe shortage of pediatric primary care providers and PNPs, so jobs in this field will be plentiful till that shortage is mitigated. Payscale.com (2022) estimates that the average salary for PNPs is over $93,000 per year.
Continue reading to learn more about transitioning from an RN to a PNP.
Types of Degrees for Pediatric Nurse Practitioners
The primary degree RNs earn to enter this field is a master's of science nursing (MSN) with a pediatric nurse practitioner focus. Depending on the level of education completed before enrolling in an MSN-PNP degree, it can take 18 months or more to finish a degree. Many MSN PNP programs are offered online, so registered nurses can complete additional education while continuing to work without relocating. An MSN is required for certification and licensure as a PNP.
Another degree that RNs can earn to be a PNP is a doctor of nursing practice (DNP) with a pediatric nurse practitioner focus. This advanced degree requires more coursework and clinical experience hours than an MSN program. While a DNP is not required for certification or licensure, it may be in the future, so earning this more advanced degree can help future-proof a career.
Most MSN- and DNP-PNP programs require applicants to have at least a bachelor's of science in nursing (BSN). However, some programs accept students who have only completed an associate's degree in nursing (ADN) as long as they hold a current unencumbered registered nursing license.
Alternatively, registered nurses with a master's degree in a field other than PNP can earn a post-master's certificate. These programs are often shorter in duration and include pediatric-specific education without many general education courses.
Choose a Subspecialty: Acute Care, Primary Care & More
Within pediatric nurse practitioner practice, there is the opportunity to choose a subspecialty. This doesn't expand the population that the nurse practitioner cares for but instead focuses on a particular type of care. Options for subspecialties include:
Acute care
Primary care
Cardiology
Oncology
Neurology
Psychiatry
Accreditation of Pediatric NP Programs
It is important to ensure that a chosen PNP program is accredited, be it an MSN or DNP. Accreditation assures employers, certification agencies, and state nursing boards that the program meets a high level of quality in faculty, facilities, and curriculum.
Accredited programs must also adhere to outcome standards to ensure that students graduate in a reasonable amount of time and pass licensing and certification exams at a rate in line with national averages.
The main entities that accredit nurse practitioner programs are the Commission on Collegiate Nursing Education (CCNE) and the Accreditation Commission For Education In Nursing (ACEN).
Steps for an RN to Become a Pediatric Nurse Practitioner
Step 1: Gain Work Experience (Timeline Varies)
Registered nurses who want to pursue a career as pediatric nurse practitioners need to gain work experience. While this can be in any field, having extensive experience working with infants, children, and teens is advantageous. This can be obtained while working in family or pediatric practices.
Step 2: Earn A Graduate Degree In Nursing (18 Months to Four Years)
After gaining work experience, RNs can apply to an MSN or DNP in PNP. These programs take between 18 months to four years, depending on the level of education completed before enrolling and the degree pursued.
Some programs offer the opportunity to choose a subspecialty such as acute care, oncology, or psychiatry. Both an MSN and a DNP in PNP will require students to complete clinical hours. MSNs typically require at least 500 hours, while DNPs will require 1,000 hours or more.
Step 3: Obtain National Certification (Timeline Varies)
The next step to becoming a PNP is to obtain a national-level certification. The primary certification earned by PNPs is through the Pediatric Nursing Certification Board (PNCB). There are three certifications candidates can earn. They include:
Pediatric Primary Care Mental Health Specialist (PMHS)
Certified Pediatric Nurse Practitioner – Primary Care (CPNP-PC)
Certified Pediatric Nurse Practitioner – Acute Care (CPNP-AC)
The eligibility requirements for these certifications include:
Have an active, unencumbered registered nursing license
A graduate degree from a CCNE or ACEN accredited pediatric nurse practitioner program in the chosen specialty
500 hours of supervised clinical care
Step 4: Earn State License To Practice As Pediatric Nurse Practitioner (Timeline Varies)
The final step to working as a PNP is to be licensed by the state where the practitioner intends to practice. Each state nursing board has its own requirements, so candidates should contact their board to ensure they have the necessary qualifications.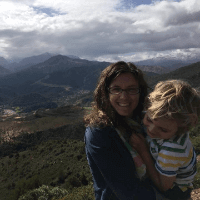 Kimmy Gustafson
Writer
Kimmy is a freelance writer with extensive experience writing about healthcare careers and education. She has worked in public health, at health-focused nonprofits, and as a Spanish interpreter for doctor's offices and hospitals. She has a passion for learning and that drives her to stay up to date on the latest trends in healthcare. When not writing or researching, she can be found pursuing her passions of nutrition and an active outdoors lifestyle.