Breastfeeding is a lifelong gift that keeps on giving in the form of health to parents and babies. Both reap numerous health benefits from breastfeeding, according to the Centers for Disease Control (CDC 2023), including a lowered risk of breast and ovarian cancer for parents and a reduction in ear, respiratory, and gastrointestinal infections for babies. Public health support for breastfeeding has galvanized in recent years. The CDC reported a 10 percent increase in the number of parents who chose to start out breastfeeding their babies between 2004 and 2019, as well as 28.9 percent of hospitals with recommended maternity care practices that support breastfeeding (CDC 2023).
While these are encouraging statistics, the bigger numbers show that nursing parents need more support; 60 percent of parents stop breastfeeding sooner than they planned, citing a lack of instruction in hospitals and prohibitive workplace policies (CDC 2023). To fill this need, lactation consultants are stepping in to empower nursing parents through educational support and fulfill a much-needed role in making the benefits of breastfeeding more accessible.
Professional qualifications for lactation consultants run the gamut from high school graduates with extensive on-the-job training to registered nurses with board certification. Many lactation consultants work independently as private practitioners and make house calls to nursing parents and infants postpartum, while others work with parents and newborns in healthcare settings such as hospitals or midwifery clinics. While there is currently no occupational data for lactation consultants, registered nurses (RNs) can be classified as lactation consultants, and the number of RNs is on the rise in the United States. The Bureau of Labor Statistics (BLS 2022) predicts that 195,400 new RN positions will be needed between 2021 and 2031, a six percent rate of occupational growth that is much faster than the national average.
When we think of breastfeeding, we often use the term to describe a mother nursing her child. However, it's crucial to acknowledge that not all lactating individuals identify as women. Chestfeeding is a term used to describe the act of feeding a child with milk from one's chest and is a crucial aspect of breastfeeding discourse. This term honors the experiences and identities of non-binary individuals and trans men who may also engage in this intimate act of nourishing their child. By using more inclusive language like chestfeeding, a more welcoming and supportive environment can be created for all parents and their nursing journeys.
Read on to learn more about how to become a lactation consultant.
Lactation Consultant Specializations & Degree Types
There are several pathways to becoming a lactation consultant. While there are currently no state-level licensing requirements for the career, there are accredited educational programs and board certification exams to pursue to prove professional qualifications. Lactation consultants with more education and credentials can expect to have a wider option of career opportunities and higher salaries.
Lactation consultants can pursue training through three distinctive pathways:
Certificate programs. This is the most common pathway.
Bachelor's degree programs in nursing, health sciences, or public health with a lactation consultant certificate
Master's degree programs in nursing, health sciences, or public health with a lactation consultant certificate
All of the above pathways enable aspiring lactation consultants to pursue board certification through the International Board of Lactation Consultant Examiners (IBLCE) and earn the title of International Board Certified Lactation Consultant (IBCLC). Some employers may require more specific degrees in nursing, health sciences, or public health in addition to IBCLC board certification from the IBLCE.
Admissions Requirements for Lactation Consultant Programs
Every lactation consultant program has distinct requirements for admission. Here is a list of the typical tasks and documentation required of applicants:
Application fee
Campus tour (optional, but preferred)
Completed application
Criminal background check
Drug screening test
Interview with an admissions specialist
Official high school transcript
Official transcripts from a regional or nationally accredited college or university (or high school transcripts for some programs)
Physical health exam
Proof of current vaccinations (e.g., hepatitis B, measles, mumps, and rubella, tuberculosis, tetanus, diphtheria, etc.)
For non-native speakers of English: proof of academic English language competency through official scores from the Test of English as a Foreign Language (TOEFL) or the International English Language Testing System (IELTS)
For coursework earned outside of the United States: official transcripts must be evaluated and translated into English
Lactation Consultant Program Accreditation
Accredited educational programs offer a quality metric and ensure prospective students that an institution's program curriculum, staff, and faculty have all met high academic and professional rigor standards. Accreditation can be programmatic, regional, or national. The U.S. Department of Education approves recognized accrediting agencies.
The International Board of Lactation Consultant Examiners (IBLCE) offers three pathways for aspiring lactation consultants to pursue board certification and earn an International Board Certified Lactation Consultant (IBCLC) credential. However, it does not accredit lactation education programs. The Commission on Accreditation of Allied Health Programs (CAAHEP) is the leading programmatic accrediting agency that approves more than 2,200 entry-level education programs, including lactation consultant programs, in the health science professions. CAAHEP is accredited by the Council for Higher Education Accreditation (CHEA).
Overall, aspiring lactation consultants are encouraged to ensure that a CHEA-recognized body has accredited their educational institution of choice.
On-Campus Lactation Consultant Degree Programs
The Henry Ford College in Dearborn, Michigan, offers a 42-credit certificate of achievement for aspiring lactation consultants. Designed for students who are not registered nurses, this program prepares students with coursework and practical experience to prepare them to take the IBLCE certification exam and become board-certified lactation consultants.
Incoming students are strongly recommended to complete three 100-level courses in medical terminology and biology prior to beginning the program. Courses are offered in a specific sequence over three semesters, including nutrition, basic lactation concepts, applied principles of breastfeeding, sociology, and an advanced practicum course. Academic advisors and faculty counselors are available to help students plan their course schedules.
Location: Dearborn, MI
Duration: Three semesters
Accreditation: Commission on Accreditation of Allied Health Programs (CAAHEP) and Higher Learning Commission (HLC)
Tuition: $108 to $350 per credit (depending on residency)
The lactation consultant training program offered at John C. Smith University offers supervised breastfeeding support education focusing on clinical lactation services and public health practice. Students gain practical experience through at least 300 clinical hours and 90 didactic hours while fulfilling the requirements of an IBCLE-approved Pathway 2 Program. The training addresses equity, population-based applications, social determinants of health, and factors and barriers affecting people of color.
The program is only available in person and has no online components. The didactic courses are completed over a ten-month school year and include weekly three-hour interactive sessions, homework assignments, projects, presentations, in-class exercises, case studies, and exams.
Location: Charlotte, NC
Duration: Ten months
Accreditation: Commission on Accreditation of Allied Health Programs (CAAHEP)
Tuition: $325 per credit
North Carolina Agricultural and Technical State University
North Carolina Agricultural and Technical State University is a Pathway 2 program that stands out from others by going beyond the minimum requirement of didactic hours in communication set by the IBLCE. The program offers two courses focusing on cultural diversity and communication in healthcare. Students are taught to be effective communicators because it is crucial for patient care and delivering healthcare messages, especially in marginalized communities.
This degree program is one of two location certificates hosted at Historically Black Colleges and Universities. The program aims to address the underrepresentation of African Americans among IBCLCs and close the gap in breastfeeding disparities. Graduates of the program can contribute to increasing diversity in a field that has been homogeneous since its inception, leading to overall health gains for the African American population.
Location: Greensboro, NC
Duration: One year
Accreditation: Commission on Accreditation of Allied Health Programs (CAAHEP)
Tuition: $5,312.21 for up to five credits
University of North Carolina at Chapel Hill Gillings School of Global Public Health
In 2009, the Carolina Global Breastfeeding Institute launched the Mary Rose Tully Training Initiative (MRT-TI) in collaboration with the University of North Carolina Women's and Children's Hospital staff.
In 2016, MRT-TI made history by being the first accredited Pathway 2 lactation consultant training program in the US. This two-semester program, located in the Maternal and Child Health Department at UNC Chapel Hill's Gillings School of Global Public Health, is crafted to offer students a comprehensive education in breastfeeding and human lactation. With an emphasis on public health perspectives, both local and international, students gain exposure to a wide array of practice experiences while completing a minimum of 300 clinical hours and 95 didactic hours.
To be considered for admission, applicants must submit an application directly to the program, a personal statement, letters of recommendation, and official transcripts. This is not a degree program or continuing education course.
Location: Chapel Hill, NC
Duration: Two semesters
Accreditation: Commission on Accreditation of Allied Health Programs (CAAHEP)
Tuition: $1,482.50 per credit
Georgia Northwestern Technical College
The human lactation program at Georgia Northwestern Technical College is a three-semester-long certification program. Graduates are trained to adhere to the standards of practice and code of ethics governing this field and work within a defined scope of practice.
The program offers a comprehensive curriculum that includes theoretical and practical training in the management of lactation and breastfeeding counseling skills and education in human lactation, breastfeeding, and general health sciences. Upon completion of the program, graduates will possess the necessary skills to sit for the IBCLE.
While prerequisite coursework for this program may be available online, this on-campus certificate includes clinicals and labs in person.
Location: Rome, GA
Duration: Three semesters
Accreditation: Commission on Accreditation of Allied Health Programs (CAAHEP)
Tuition: $556 per credit
Online or Hybrid Lactation Consultant Degree Programs
Oregon Health Sciences University (OHSU) and Portland State University (PSU)
The OHSU-PSU School of Public Health offers an undergraduate certificate in human lactation and a lactation education program. Some courses are offered in a hybrid format allowing students to take classes on- and off-campus. The programs offer comprehensive training to two types of students: current health professionals and students who want to improve their lactation skills. Students seeking bachelor's degrees in health sciences or students interested in maternal and infant healthcare policy are also ideal candidates.
The program curriculum follows the three pathways set forth for certification by the IBLCE, and students must select their preferred pathway prior to taking courses in lactation education. Coursework includes biology, human anatomy and physiology, nutrition, and lactation practicum classes. Students who complete these certificate programs are prepared to take the IBCLE's lactation consultant board certification exams.
Location: Portland, OR
Duration: Two to three years
Accreditation: Commission on Accreditation of Allied Health Programs (CAAHEP)
Tuition: $200 per credit (resident); $620 per credit (non-resident)
Offering flexible and fully online programs, the Union Institute & University offers a 120-credit bachelor of science and a master of arts in maternal child health specializing in human lactation. Students can choose to complete courses on a full- or part-time schedule, and classes begin every eight weeks. Students with existing credit hours may transfer up to 80 credits.
Graduates from the bachelor of science in maternal child health with a human lactation major may take advantage of a bridge pathway and apply up to 12 of the credits from their bachelor's program towards a master's degree in health and wellness. Financial aid is available to those who qualify, and Union Institute & University is known as a military-friendly school.
Location: Cincinnati, OH
Duration: Two to four years
Accreditation: Commission on Accreditation of Allied Health Programs (CAAHEP)
Tuition: $545 per credit
Drexel University in Philadelphia, Pennsylvania, offers an 18-credit undergraduate certificate for students to become human lactation consultants. The program curriculum is offered onsite at Drexel's Center City campus and provides 90 hours of didactic coursework and 300 hours of supervised practice in lactation to meet the requirements of the "IBCLE's Pathway 2," discussed at length below in the certification section.
The program is available to currently matriculated undergraduate and graduate students at Drexel University. Students who still need to enroll may apply for part-time undergraduate admission. The human lactation consultant program begins in a cohort once a year.
Requirements set forth by IBLCE require that students earn at least one academic credit and a passing grade at an accredited school in five of the following eight disciplines: biology, human anatomy, human physiology, infant growth and development, introduction to clinical research, nutrition, psychology or communication, and sociology or cultural anthropology. Students must complete all prerequisite courses prior to beginning supervised practicum coursework.
Location: Philadelphia, PA
Duration: One to three years
Accreditation: Commission on Accreditation of Allied Health Programs (CAAHEP)
Tuition: $1,273 per credit
University of California San Diego Extended Studies
The Lactation Consultant: Pathway 1 Program at UC San Diego is designed for healthcare professionals looking to expand their clinical knowledge of breastfeeding. The program is aimed at those who interface with breastfeeding clients and want to better understand clinical management problems.
Upon completing the program, students receive a professional certificate of completion in lactation consultant education, which is approved preparation for healthcare providers who interact with and triage infant nutrition problems and concerns. The program's curriculum is based on the objectives, guidelines, and competencies established and approved by the Lactation Education Accreditation and Approval Review Committee (LEAARC). This program is only one 120-hour course that can be completed exclusively online.
Location: San Diego, CA
Duration: One course
Accreditation: American Nurses Credentialing Center's Commission on Accreditation
Tuition: $1,095 to $1,195 for the class
North Carolina State University Maternal and Infant Lactation Knowledge (MILK) Research and Educational Group
NC State University offers online on-demand lactation education for those training to become lactation consultants. The courses are interactive and fulfill the IBLCE 90-hour lactation-specific education requirement necessary to take the IBCLC exam. Anyone can take these courses without an application; there is no start date. Students can register and begin at any time. This two-course package has a total of 110 hours and has been approved by the Lactation Education Accreditation and Approval Review Committee (LEAARC).
The two classes are breastfeeding and public health and clinical breastfeeding support. Courses must be completed within six months.
Location: Raleigh, NC
Duration: Not applicable
Accreditation: Lactation Education Accreditation and Approval Review Committee (LEAARC)
Tuition: $425 per course
How Long Does it Take to Become a Lactation Consultant?
The time needed to become a lactation consultant is anywhere from one to five years. All three International Board Certified Lactation Consultant (IBCLC) pathways require applicants to take a minimum of 90 hours of lactation-specific courses within the five years immediately prior to applying to take the exam. The number of supervised clinical hours ranges from 300 to 1,000, depending on an applicant's educational and professional qualifications.
For example, an applicant with a high school diploma and no previous educational training must take 90 hours of lactation courses and complete 1,000 practicum hours. On the other hand, an applicant who has completed a CAAHEP-accredited healthcare program through a college or university would only need 300 practicum hours before becoming eligible to sit for the IBCLC exam.
How To Become a Lactation Consultant – Step-by-Step Guide
Step One: Graduate from High School or Earn a GED (Four Years)
Many rewarding careers begin with the critical achievement of earning a high school diploma, and most certificates and degree programs require a high school diploma for admission. Taking anatomy and physiology, biology, and chemistry courses can help high school students prepare for a lactation consultant career.
Step Two: Complete Prerequisite Courses (At Least One Year)
Depending on the chosen pathway, those pursuing certification or a bachelor's degree in lactation consultancy are required to take 25 hours or more of academic courses in lactation health outlined by the International Board of Lactation Consultant Examiners (IBLCE). Courses include biology, nutrition, sociology, and communications.
Step Three: Enroll in an Accredited Program (At Least One Year)
Those pursuing a certificate or degree in lactation consultancy are advised to seek out programs approved by programmatic-accrediting organizations such as CAAHEP or a regionally-accredited school approved by the US Department of Education.
Step Four: Complete supervised practicum hours (Timeline Varies)
All candidates aspiring to take the IBLCE exam must complete a minimum of 90 hours of lactation education and general education. The number of required practicum hours varies for each pathway.
Step Five: Pass IBCLC Licensing Exam (Less Than One Year)
International Board Certified Lactation Consultant (IBCLC) exams are given a few times per year, and prerequisite coursework and practicum requirements must be met prior to becoming eligible to take the test.
What Do Lactation Consultants Do?
Lactation consultants teach parents and infants nursing skills to overcome breastfeeding challenges. They perform a number of services to empower parents to nurse their children, including:
Teaching postpartum parents what to look for in a good latch
Instructing expectant parents on best practices for breastfeeding
Helping to position babies and parents
Advising parents about breast pumps
Sharing knowledge with parents about nutrition for infants
Performing weight checks on infants
Advocating for policy changes and staying current with professional development
In addition to board certification through the International Board of Lactation Consultant Examiners (IBLCE), there are several professional organizations geared towards professional development in the field of lactation consultancy. The International Lactation Consultant Association (ILCA) and the US affiliate organization, the United States Lactation Consultant Association (USLCA), are member associations for lactation consultant professionals who care for breastfeeding families. Membership is open to all who support and promote breastfeeding.

La Leche League International is another worldwide organization that offers accreditation for leadership positions to promote and advocate for breastfeeding parents and babies.
Lactation Consultants Certifications & Licensure
The International Board of Lactation Consultant Examiners (IBLCE) offers a certification program that has been overseen and continuously accredited by the National Commission for Certifying Agencies (NCCA) since 1988.
Applicants must meet eligibility criteria in three areas: health sciences education, lactation-specific education, or lactation-specific clinical experience. There are three different pathways to be eligible to sit for the IBCLC exam.
The first one is Pathway 1 for Recognized Health Professionals and Recognized Breastfeeding Support Counselors. Candidates must "practice as a Recognised Health Professional or provide breastfeeding support through a Recognised Breastfeeding Support Counsellor Organisation." In addition, they must complete the 14 subjects listed in the Health Sciences Education Guide, have 95 hours of lactation-specific education, and have 1000 hours of lactation-specific clinical practice.
The second option is Pathway 2, which is by completing an accredited lactation academic program accredited by CAAHEP. Candidates for this pathway must also complete 95 hours of lactation-specific education and 300 hours of lactation-specific clinical practice.
The last option, Pathway 3, is through mentorship with an IBCLC. This mentorship must be structured according to the specifications found in the Pathway 3 Plan Guide, and the mentor must be certified to provide mentorship. The mentorship must be approved prior to any hours being accrued. Candidates in this pathway must also complete 95 hours of lactation-specific education and 500 hours of directly supervised lactation-specific clinical practice.
Students in practicum courses are typically required to maintain basic life support for healthcare providers and CPR certification from the American Heart Association.
How Much Do Lactation Consultants Make?
Salaries for lactation consultants vary based on a number of factors: training, education, certification, work experience, self-reported earnings, and regional cost of living. The average annual salary earned by a registered nurse is $89,010 (Bureau of Labor Statistics May 2022). The percentiles for wages are:
10th percentile: $61,250
25th percentile: $66,680
50th percentile (median): $81,220
75th percentile: $101,100
90th percentile: $129,400
Lactation Consultant Career Alternatives
Become a Registered Nurse
Registered nurses are responsible for patient care. Their duties may include monitoring and recording patient vital signs, administering medications and treatments, conducting diagnostic tests, assisting physicians during procedures, and educating patients and their families about their health conditions and treatment plans.
They may also manage medical records, collaborate with other healthcare providers, and emotionally support patients and their families. Nurses work in a variety of settings, such as hospitals, clinics, long-term care facilities, and private practices.
Typical Education: Associate or Bachelor's
Licensing or Certifying Organization: National Council of State Boards of Nursing (NCSBN)
Become a Nutritionist
Nutritionists are specialists in food and its impact on human health. They work with individuals and communities to develop and implement healthy eating plans that meet the specific nutritional needs of their clients. They may help clients with various health issues, such as diabetes, heart disease, obesity, and food allergies, by developing personalized diets and providing education on food choices and portion sizes. They work in various places, including public health programs, schools, hospitals, and wellness centers.
Typical Education: Master's
Licensing or Certifying Organization: Commission on Dietetic Registration
Become a Doula
The role of a birth doula is to complement the medical care provided by doctors and midwives and to help the family have a positive and empowering birth experience. They are non-medical professionals who offer physical, emotional, and informational support during pregnancy, childbirth, and postpartum. Doulas typically meet with the expectant parents several times before the birth to create a personalized birth plan and help them prepare for labor and delivery.
During labor, a birth doula provides continuous support to the laboring mother, which may include relaxation techniques, position changes, massage, and breathing exercises. After delivery, a birth doula may assist with breastfeeding and provide practical support such as meal preparation or light housekeeping.
Typical Education: DONA International-approved birth doula training
Licensing or Certifying Organization: DONA International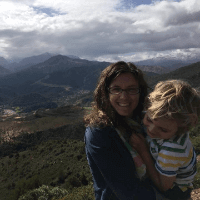 Kimmy Gustafson
Writer
At HealthcareDegree.com, Kimmy Gustafson has delivered in-depth and insightful articles since 2019, aiding prospective students to navigate the complexities of choosing the right healthcare degree. Her recent work includes topics such as the ethics of gene editing and physician assistant's fight for autonomy.
Kimmy has been a freelance writer for more than a decade, writing hundreds of articles on a wide variety of topics such as startups, nonprofits, healthcare, kiteboarding, the outdoors, and higher education. She is passionate about seeing the world and has traveled to over 27 countries. She holds a bachelor's degree in journalism from the University of Oregon. When not working, she can be found outdoors, parenting, kiteboarding, or cooking.