Becoming a nurse is an incredibly rewarding career. Nurses make a difference in people's lives daily, which can bring immense personal satisfaction. With various specializations and populations, nurses can follow their interests and find a career path that fuels their creativity and desire to learn. However, nursing is a demanding job that requires education, skill, and compassion. Because of this, nurses are well-compensated for their hard work and dedication.
The average annual salary of registered nurses is $82,750 per year, according to the Bureau of Labor Statistics (BLS May 2021). Specializations, however, can often command much higher salaries. Salaries can also vary depending on region, experience level, and certifications. As a result, there are many opportunities for those interested in pursuing a career in nursing to maximize their earning potential.
Becoming a registered nurse requires a commitment to education and training. Depending on the specialty, nurses can complete an associate's degree in nursing or a bachelor's of science in nursing. Many schools offer accelerated courses that can help students complete their degrees faster or online programs that can be completed while still working. In addition to formal training, nurses must pass the National Council Licensure Examination (NCLEX) before being licensed and practicing in their state. Nurses who want to become advanced practice registered nurses (APRNs) must complete a graduate degree, such as a master's of science in nursing or a doctor of nursing practice degree, and earn a national certification.
Demand for registered nurses across all specializations is expected to increase 6 percent between 2021 and 2031, translating into 195,400 new openings (BLS 2022). APRNs, on the other hand, are in very high demand, with an anticipated 40 percent increase in jobs in the coming decade (BLS 2022). Overall, demand for both categories of nurses is driven by the aging and retiring Baby Boomer population.
Continue reading to learn which are the highest-paid specializations for registered nurses and a few of the highest specializations for APRNs in 2023.
Registered Nurse Average Salaries
All of the specialties listed below only require a nursing degree. While it may be possible to enter most of these fields with just an associate degree in nursing, a bachelor of science in nursing is highly recommended.
Neonatal Intensive Care Unit (NICU) Nurse – $129,693 annually
Neonatal intensive care unit (NICU) nurses care for the tiniest and most vulnerable patients They are highly knowledgeable and trained in neonatal resuscitation, medical procedures, and assessment of newborns' health conditions. They also act as a source of security and comfort to parents, providing emotional and medical support throughout the NICU journey. According to ZipRecruiter they earn $129,693 annually on average.
Flight Nurse – $124,622 annually
Flight nurses put their lives at risk to fly patients needing urgent medical care to hospitals and other facilities that may not be accessible by ground transportation. Flight nurses wear all the hats. They provide pre-hospital care and assessment while on the aircraft, coordinate with medical teams on the ground to determine the best course of treatment and use their expertise and knowledge to support in-flight emergencies. Due to the dangerous nature of this job, along with the high level of expertise required, Glassdoor.com estimates that flight nurses earn $124,622 per year on average.
Pain Management Nurse – $113,729 annually
Pain management nurses are necessary to help provide comprehensive care for those living with chronic pain. Pain affects every aspect of a person's life, from physical, emotional, and psychological well-being to social functioning and quality of life. Pain management nurses use their knowledge, experience, and expertise to deliver individualized care that addresses all aspects of managing pain. The average salary for nurses in this field is $113,729, according to Indeed.com.
Nurse Administrator – $111,989 annually
Nurse administrators are responsible for managing the clinical and administrative operations of a healthcare facility. They ensure that the staff complies with laws, policies, and regulations and that the quality of care is high. Unlike other nursing roles, most nurse administrators must have at least a bachelor's degree in nursing with some education in leadership and healthcare administration. This management role is estimated to earn $111,989 per year, according to Glassdoor.com.
Oncology Nurse – $111,714 annually
Oncology nurses work with patients who have a cancer diagnosis. They work closely with oncologists to ensure that their patients are properly supported and monitored throughout cancer treatment. From listening and offering understanding to administering medications, oncology nurses use their expertise to offer comfort and security through this challenging journey. Glassdoor.com estimates that oncology nurses earn $111,714 per year on average.
Nurse Educator – $105,597 annually
Nurse educators teach nurses and other healthcare professionals about the latest advances in medical care and provide guidance, mentoring, and support to nursing students. They also develop curricula and instructional materials to ensure that nurses understand and adhere to traditional nursing standards and emerging evidence-based practice guidelines. Most nurse educators have at least a bachelor's of science in nursing degree and, on average, earn $105,597 per year, according to Salary.com.
Registered Nurse First Assistant (RNFA) – $103,600 annually
Registered nurse first assistants (RNFAs) directly support surgeons before, during, and after operations. Their job duties include assessing patient needs, consulting with other healthcare professionals, maintaining a sterile environment during surgery, training/managing staff members, monitoring vital signs, administering medications, using specialized equipment to support the surgeon, observing the progress of operations, and educating patients about treatments and procedures. Salary.com estimates that RNFAs earn $103,600 annually.
Informatics Nurse – $102,273 annually
Nurses who specialize in using technology and data to improve the delivery of patient care are called informatics nurses. They manage information systems, provide technical support for nurses, physicians, and other healthcare staff, and develop nursing informatics protocols to ensure accurate and effective data storage, retrieval, and communication. These nurses are expected to have strong analytical skills to evaluate the effectiveness of informatics technologies and how to apply them. ZipRecruiter.com estimates that, on average, informatics nurses earn $102,273 annually.
Pharmaceutical Research Nurse- $100,359 annually
Pharmaceutical research nurses play a critical role in clinical trials, working with pharmacists and clinical researchers to ensure the protocol is followed correctly and safely. They are responsible for overseeing the proper handling of medications and administering them according to the research plan. Other duties include documenting the progress of the clinical trials, providing feedback to the research team, and ensuring patient safety throughout the process. Professionals in this field earn $100,359 annually on average, according to ZipRecruiter.com
Advanced Practice Registered Nurse (APRN) Salaries
APRNs are nurses with a graduate degree in nursing, national certification, and specialized skills, such as prescribing medications or providing primary care services. They provide various patient-centered healthcare services, including diagnosing medical conditions, prescribing medication and treatments, ordering laboratory tests and diagnostic imaging studies, and counseling patients on lifestyle changes that may improve their general health. At least a master's of science in nursing is necessary to work as an APRN, although many practitioners complete a more advanced doctor of nursing practice degree.
Certified Registered Nurse Anesthetists (CRNA) – $202,470 annually
Certified registered nurse anesthetists (CRNAs) typically earn the most money within nursing because of their specialized skill set. CRNAs are trained in administering anesthesia for surgical and medical procedures, emergency medical care, pain management, and critical care. Their advanced education and certifications require additional time and training, allowing them to command a higher salary than many other nursing roles. According to the BLS, CRNAs earn $202,470 annually (May 2021). The percentiles for wages are:
10th percentile: $131,840
25th percentile: $164,860
50th percentile (median): $195,610
75th percentile: >$208,000 per year
90th percentile: >$208,000 per year
Nurse Practitioner – $118,040 annually
Nurse practitioner (NP) is an overarching term for various APRNs. NPs may specialize in family health, mental health, adult or gerontological care, neonatal care, women's health, or pediatric care. APRNs hold different titles depending on the specialization they choose. For example, gerontological nurse practitioners, family nurse practitioners, psychiatric mental health nurse practitioners, and many others are all considered NPs. The average salary for nurse practitioners is $118,040 per year, according to the BLS (May 2021). The percentiles for wages are:
10th percentile: $79,470
25th percentile: $99,540
50th percentile (median): $120,680
75th percentile: $129,680
90th percentile: $163,350
Certified Nurse Midwife – $114,210 annually
Certified nurse midwives (CNMs) specialize in providing comprehensive care to women across their lifespans. Their scope of practice includes independent oversight of pregnancy, childbirth, the postpartum period, family planning services such as preconception care, and reproductive health, including gynecologic health. Wages for CNM average $114,210 per year, according to the BLS (May 2021). The percentiles for wages are:
10th percentile: $61,500
25th percentile: $96,040
50th percentile (median): $112,830
75th percentile: $130,450
90th percentile: $166,170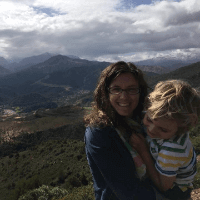 Kimmy Gustafson
Writer
Kimmy is a freelance writer with extensive experience writing about healthcare careers and education. She has worked in public health, at health-focused nonprofits, and as a Spanish interpreter for doctor's offices and hospitals. She has a passion for learning and that drives her to stay up to date on the latest trends in healthcare. When not writing or researching, she can be found pursuing her passions of nutrition and an active outdoors lifestyle.