Hearing loss can lead to frustration, learning impairment, communication breakdowns, and social isolation at any age. Audiologists help people reclaim the power of their senses by correcting hearing loss, vertigo, and other hearing-related disabilities.
Audiologists prevent, examine, diagnose, assess, and manage the effects related to hearing loss. They fit patients for hearing aids and cochlear implants. Audiologists support patients and families dealing with hearing loss issues related to speech and language. People experiencing balance problems such as vertigo visit audiologists for solutions to correct inner ear imbalances.
Audiology is a rewarding profession that helps improve lives. Kristin Samuelson, an audiologist and clinical professor with 31 years of experience, recently told the U.S. News & World Report:
"​There is nothing better than having a patient break down and cry with joy when they tell you about having the first real conversation with their three-year-old grandchild because they could finally hear them, or seeing a baby's face light up when their cochlear implant gets activated and they hear their mom and dad's voice for the first time."
Ms. Samuelson emphasizes that untreated hearing loss in seniors can lead to social isolation and that appropriate treatment of deafness can prevent cognitive decline.
Audiology careers are slated for growth in the coming years. In 2021, the U.S. Bureau of Labor Statistics (BLS) predicted that 46 essential healthcare careers would be in-demand with a faster than average growth rate. Between 2020 and 2030, the BLS shows audiology openings will grow 16 percent nationally, twice the average expected of all careers in the same time period (8 percent). An estimated 2,100 new positions will be needed. These professionally make $86,050 on average annually (BLS May 2021). Check out this complete audiologist salary guide for more information.
Becoming an audiologist is a rewarding career requiring a specific educational pathway, clinical hours, and certification. Read on to learn the steps to take to become an audiologist. 
Featured SLP & Communication Disorders Programs
Arizona State University
Speech and Hearing Science (BS)
Program Website
Sponsored
Step-by-Step Guide to Becoming an Audiologist
Step One: Graduate from high school (four years)
Aspiring high school students who know they want to pursue an audiology career or at least keep their options open should aim to take as many courses possible in hard sciences, math, foreign language, physics, and communications and keep their grades high to earn admission into competitive bachelor's degree programs.
Step Two: Earn a bachelor's degree in any field (four years)
According to the U.S. Bureau of Labor Statistics (BLS), most doctoral audiology programs require a bachelor's degree in any field to be admitted to a doctor of audiology (AuD program).
However, since audiology is a healthcare profession, undergraduate students should prepare for AuD programs by taking courses in mathematics, hard sciences, anatomy and physiology, and communications. In addition, students can opt to major in related disciplines to audiology such as communication disorders, speech-language pathology, physics, pre-med, or sound engineering.
Step Three: Complete a CAA-accredited audiology doctoral (AuD) program (four years)
After earning a bachelor's degree, the next step to becoming an audiologist is to earn a doctorate in audiology (AuD). Recent graduates with bachelor's degrees or soon-to-be graduates can apply for admission to four-year audiology doctoral programs.
To qualify for professional licensure, students must graduate from AuD programs accredited by the Council on Academic Accreditation (CAA), which is affiliated with the American Speech-Language-Hearing Association (ASHA).
Accredited AuD programs include courses in anatomy, physiology, physics, genetics, diagnosis and treatment, and pharmacology. In addition, supervised clinical practice hours are often included in the fourth year of a program and are required for licensure (see the section below).
An exemplary doctor of audiology (AuD) program is offered by Vanderbilt University's Department of Hearing and Speech Sciences. This program is ranked #1 in the nation by the U.S. News & World Report. It is not to be confused with the doctor of philosophy in audiology program, which focuses on teaching and research rather than clinical practice. This program trains its students to prevent, identify, and evaluate hearing disorders and rehabilitate people who are hearing impaired. This program is accredited by CAA and offers two specialty tracks in early identification and management of children with hearing loss and vestibular sciences. In addition, students learn at clinical sites in Nashville and surrounding areas.
Location: Nashville, TN
Duration: Four years
Accreditation: Council on Academic Accreditation (CAA)
Tuition: $43,287 (years one to three); $8,570 (final year)
Step Four: Earn audiologist certification (timeline varies)
Two organizations offer audiologist certification: the American Speech-Language-Hearing Association (ASHA) and the American Board of Audiology (ABA).
The American Speech-Language-Hearing Association (ASHA) offers the Certificate of Clinical Competence in Audiology (CCC-A) certification for audiologists and speech-language pathologists. In addition, graduates from doctoral programs accredited by the Council on Academic Accreditation in Audiology and Speech-Language Pathology (CAA) or a program with CAA-candidacy status can apply for certification upon graduating with an AuD degree.
Please note that all CCC-A exam applicants must meet a minimum number of hours of supervised clinical practicum requirements under a currently certified CCC-A to be eligible to take the exam. If students did not earn these hours during a doctoral program, they can complete them after graduation and verify their practicum hours by submitting a form to ASHA.
Most states and employers require audiologists to hold CCC-A certification to work or meet minimum job qualifications legally. Please visit ASHA's web page on state licensure to learn more about state-specific requirements.
The cost to take the CCC-A exam depends on whether a candidate was previously a member of the National Student Speech-Language-Hearing Association (NSSLHA) in the last two years of their doctoral program. The cost for NSSLHA members to convert to ASHA membership and apply for certification is $286.
The American Board of Audiology (ABA) also offers three optional credentials for audiologists:
American Board of Audiology (ABA) Certified
Pediatric Audiology Speciality Certification (PASC)
Cochlear Implant Specialty Certification (CISC)
These certifications may not be required for state licensure, but having it can verify an applicant's skill sets in a specialized area of audiology, express one's commitment to the field, and help an applicant stand out in a search pool. As of April 2022, 15 states recognize the ABA certification for expedited licensure: Alabama, Delaware, District of Columbia, Florida, Hawaii, Illinois, Maryland, Michigan, Minnesota, New Mexico, Ohio, Texas, Virginia, Washington, and Wyoming.
For example, if an audiologist holds the Pediatric Audiology Speciality Certification (PASC) from the ABA and applies to work at a children's hospital in one of the aforementioned states, having this certification in addition to the Certificate of Clinical Competence in Audiology (CCC-A) could put them ahead of other candidates.
Certification fees cost $175 for ABA members and $375 for non-members annually. A one-time rate for recent graduates is available and costs $110 for one year.
Step Five: Maintain audiologist certification (annually)
Professional audiologist certification requires ongoing continuing education, professional experience, and annual fees.
ASHA members and credential holders must recertify every year and recommit to the ASHA Code of Ethics. The cost for ASHA members to recertify is $225 annually.
ABA-Certified audiologists must recertify each year. Recertification requirements include completing 20 hours of continuing education, adhering to the ABA Code of Ethics and state licensure regulations, and paying annual fees of $75 for members and $200 for non-members.
Helpful Resources for Audiologists
In the timeless and wise words of Helen Keller, "Alone we can do so little; together we can do so much." Therefore, audiologists are encouraged to stay connected with colleagues and cutting-edge research through various professional and patient-centered organizations.
Here is a list of groups dedicated to providing research, advocacy, and support to audiology professionals and the patients and families they serve:
Academy of Doctors of Audiology (ADA)
Alexander Graham Bell Association for the Deaf and Hard of Hearing
American Academy of Audiology
American Academy of Pediatrics (AAP)
American Board of Audiologists (ABA)
American Speech-Language-Hearing Association (ASHA)
American Tinnitus Association (ATA)
Educational Audiology Association (EAA)
National Center for Hearing Assessment and Management (NCHAM)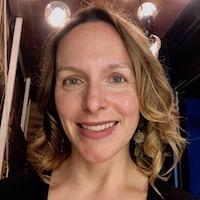 Rachel Drummond
Writer
Rachel Drummond is a freelance writer, educator, and yogini from Oregon. She's taught English to international university students in the United States and Japan for more than a decade and has a master's degree in education from the University of Oregon. A dedicated Ashtanga yoga practitioner, Rachel is interested in exploring the nuanced philosophical aspects of contemplative physical practices and how they apply in daily life. She writes about this topic among others on her blog (Instagram: @racheldrummondyoga).