Respiratory therapists are allied health professionals who treat patients that have trouble breathing. According to the American Association of Respiratory Care (AARC), "respiratory therapy is a specialized health care field where practitioners are trained in pulmonary medicine in order to work therapeutically with people suffering from pulmonary disease" (AARC 2020).
With over nine million adults in the US living with chronic obstructive pulmonary disease (COPD) and another and another 18.2 million adults living with asthma, this profession is in high demand (CDC 2020). While they treat many patients with chronic conditions including emphysema and cystic fibrosis, they also work in emergency situations responding to heart attacks and strokes. Most respiratory therapists work in hospitals, although they also work in long term care facilities and doctor's offices.
On average, respiratory therapists earn $63,950 per year. How much a respiratory therapist earns depends on several factors, including previous work experience, where they are working, what shifts they chose to work, and what level of certification they have.
Per the Bureau of Labor Statistics (BLS May 2019), here are the detailed salary percentiles of the 132,090 respiratory therapists in the US:
10th percentile: $44,850
25th percentile: $52,820
50th percentile (median): $61,330
75th percentile: $74,160
90th percentile: $86,980
Respiratory therapy comes in at number 19 on US News & World Report's (2020) list of best jobs in health care. It is the only job in the top 20 requiring an associate degree making the barrier to entry to this lucrative career very low. It is listed at 40th in the top 100 careers in the country as well.
While the work of a respiratory therapist can be demanding, and the hours often inflexible, overall respiratory therapists report their jobs to be relatively low stress (US News & World Report 2020). Self-reported job satisfaction on PayScale.com is highly satisfied with a 3.9 out of 5 based on 689 ratings (2020). As this job entails constant patient interaction, AARC reports that job satisfaction is highest amongst respiratory therapists who take the time to engage with their clients and develop a connection while providing care.
One factor that makes this such a desirable career is the current pace of job growth. Jobs for respiratory therapists are anticipated to grow 21 percent between 2018 and 2028, which is well above the national average of 13 percent for health practitioners and 5 percent for all careers (BLS 2020). In that decade, there will be more than 27,900 new respiratory therapist jobs available.
Job growth is driven by a number of elements. The population of the United States is rapidly aging and puts an increase in demand for all health care services. Hospitals are implementing policies to decrease readmissions so respiratory therapists are utilized more often to detect, prevent, and treat breathing problems in hospitalized patients as part of more holistic care. Long term care facilities are also putting into effect best practices that involve more closely monitoring residents' breathing conditions, creating jobs for respiratory therapists where there didn't used to be.
Education for respiratory therapists entails completing at least an associate degree in respiratory therapy from a Commission on Accreditation for Respiratory Care (CoARC) accredited program. While a two-year degree is the minimum requirement, many employers prefer prospective therapists to have completed a bachelor's or master's. Once a degree has been obtained, students may apply to take the Therapist Multiple-Choice (TMC) examination to become a Certified Respiratory Therapist (CRT) through the National Board for Respiratory Care (NBRC). Further certifications such as a Registered Respiratory Therapist (RRT), Adult Critical Care Specialist, Neonatal/Pediatric Specialist, and Sleep Disorders Specialist may be obtained for specialized work and job advancement.
With the ability to earn more than $60,000 per year on average with only a two-year degree, this is a highly desirable career with a low barrier to entry and with excellent self-reported job satisfaction. Jobs in this field will be plentiful for many years making this a top vocation for those choosing to work in health care.
Here are the top places for respiratory therapists to work, most popular employment settings, and highest paying specializations.
Top-Paying Cities for Respiratory Therapists
According to the Bureau of Labor Statistics (BLS May 2019), these are the top-paying metropolitan areas for respiratory therapists, the number of employed therapists, and the average wage (mean):
| Metropolitan area | Employment | Annual mean wage |
| --- | --- | --- |
| Salinas, CA | 90 | $101,520 |
| Sacramento-Roseville-Arden-Arcade, CA | 930 | $98,810 |
| San Francisco-Oakland-Hayward, CA | 1,990 | $97,950 |
| San Jose-Sunnyvale-Santa Clara, CA | 690 | $97,370 |
| Vallejo-Fairfield, CA | 210 | $94,420 |
| Santa Maria-Santa Barbara, CA | 110 | $93,260 |
| Modesto, CA | 190 | $90,810 |
| Redding, CA | 110 | $89,530 |
| Yuba City, CA | 90 | $89,470 |
| Oxnard-Thousand Oaks-Ventura, CA | 200 | $88,120 |
Top-Paying States for Respiratory Therapists
Here are the states with the highest salaries for respiratory therapists, the number of respiratory therapists employed and the average mean wage, according to the BLS (May 2019).
| State | Employment | Annual mean wage |
| --- | --- | --- |
| California | 16,650 | $83,920 |
| District of Columbia | 320 | $80,130 |
| Nevada | 1,410 | $77,760 |
| New York | 5,860 | $76,990 |
| Hawaii | 350 | $76,610 |
Top-Paying Work Environments for Respiratory Therapists
Respiratory therapists are employed in a number of fields. Here are the most popular work environments and the percentage of employed respiratory therapists who work there (BLS 2020).
| Industry | Percentage of employed respiratory therapists |
| --- | --- |
| Hospitals: State, Local, and Private | 81 percent |
| Nursing Care Facilities (skilled Nursing Facilities) | 5 percent |
| Offices of Physicians | 2 percent |
The Bureau of Labors Statistics (May 2019) reported that these were the top-paying work environments in this field:
| Industry | Employment in the U.S. | Annual mean wage |
| --- | --- | --- |
| Outpatient Care Centers | 2,000 | $82,050 |
| Local Government, Excluding Schools and Hospitals (OES Designation) | 320 | $75,910 |
| Colleges, Universities, and Professional Schools | 720 | $69,460 |
| Specialty (Except Psychiatric and Substance Abuse) Hospitals | 7,220 | $65,260 |
| General Medical and Surgical Hospitals | 101,060 | $64,120 |
Top-Paying Clinical Specializations for Respiratory Therapists
Within the field of respiratory therapy, there are numerous specializations, and pay varies between them. Here is a list of the top five highest-paying specializations, and estimated annual salary based on self-reported data from PayScale (2020):
| Specialization | Average Hourly Wage |
| --- | --- |
| Intensive Care Unit | $27.00 |
| Critical Care | $27.00 |
| Emergency/Trauma | $27.00 |
| Acute Care | $26.00 |
| Emergency Room | $26.00 |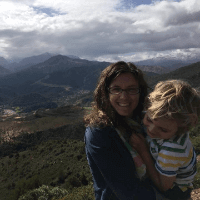 Kimmy Gustafson
Writer
Kimmy is a freelance writer with extensive experience writing about healthcare careers and education. She has worked in public health, at health-focused nonprofits, and as a Spanish interpreter for doctor's offices and hospitals. She has a passion for learning and that drives her to stay up to date on the latest trends in healthcare. When not writing or researching, she can be found pursuing her passions of nutrition and an active outdoors lifestyle.