Clinical psychologists evaluate, diagnose, and treat mental health disorders. According to the American Psychological Association (APA 2020), clinical psychology is "the psychological specialty that provides continuing and comprehensive mental and behavioral healthcare for individuals and families; consultation to agencies and communities; training, education and supervision; and research-based practice." With such a wide job description, it is no surprise that earnings for this career can vary widely.
When people think of the role of a psychologist, they are generally thinking of a clinical psychologist. This specialty is one that is very broad and psychologists in this field are required to have comprehensive knowledge of many aspects of psychology, including how to perform assessments using a variety of tools, diagnosis definitions, and best practices treatment options for a variety of patients. Clientele can include children, teens, adults, and the elderly. Treatment sessions can be individual, group, or sometimes even include families.
According to the Bureau of Labor Statistics (BLS May 2019), clinical psychologists earn $87,450 per year on average. There are 113,270 clinical, counseling, and school psychologists in the US. Here is a breakdown of their earnings (BLS 2019):
10th percentile: $45,240
25th percentile: $59,590
50th percentile (median): $78,200
75th percentile: $102,470
90th percentile: $132,670
Unfortunately, there are discrepancies in pay that are outside of a professional's control. According to the APA, female psychologists—who outnumber men in this profession—earn approximately $80,000 per year, while men earn $91,000. Psychologists of color or with an ethnic background earned only $71,000 per year on average, while their white counterparts earned $88,000.
Despite this, clinical psychologists seem to be happy with their jobs. Self-reported data from 211 clinical psychologists on PayScale (2020) shows a score of 4.1 out of 5 indicating high job satisfaction.
The APA conducted a recent survey of all psychologists and found that 93 percent were ""somewhat satisfied" or "very satisfied" with their jobs" (APA 2019). Those who had been in the career longer and those who had the most education reported the highest levels of job satisfaction.
Psychologists aren't the only ones who think they have an awesome job. The U.S. News & World Report (2020) has ranked psychologists as the number one best science job citing great work-life balance, high salary, and excellent job growth as the top reasons. This flexible job with great upward mobility is also the 14th best STEM job and the 29th best career overall.
Below are lists of top paying cities, states, work environments, and specializations for clinical, counseling, and school psychologists.
Top-Paying Cities for Clinical Psychologists
The top-paying metropolitan areas for clinical psychologists are listed below, including the number of employed clinical psychologists, and the average wage (mean), according to the Bureau of Labor Statistics (May 2019):
| Metropolitan area | Employment | Annual mean wage |
| --- | --- | --- |
| Santa Rosa, CA | 150 | $136,390 |
| Jefferson City, MO | 60 | $118,920 |
| Oxnard-Thousand Oaks-Ventura, CA | 260 | $117,960 |
| San Diego-Carlsbad, CA | 1,710 | $117,280 |
| Los Angeles-Long Beach-Anaheim, CA | 4,920 | $117,140 |
| Madera, CA | 90 | $116,190 |
| Trenton, NJ | 360 | $114,740 |
| Vallejo-Fairfield, CA | 280 | $114,580 |
| Urban Honolulu, HI | 310 | $113,930 |
| San Luis Obispo-Paso Robles-Arroyo Grande, CA | 210 | $113,730 |
Top-Paying States for Clinical Psychologists
Pay for clinical psychologists varies by state. Here are the states with the highest salaries for clinical psychologists, the number of clinical psychologists employed and the average mean wage according to the BLS (2020). Pay ranges from $94,550 to $108,350.
| State | Employment | Average mean wage |
| --- | --- | --- |
| Oregon | 1,220 | $112,110 |
| California | 16,960 | $111,750 |
| District of Columbia | 720 | $106,900 |
| New York | 11,030 | $96,170 |
| Louisiana | 290 | $96,040 |
Top-Paying Clinical Specializations for Clinical Psychologists
A clinical psychologist can choose any number of specialties. Within each specialty, wages can vary. Five of the highest-paying specializations are listed below along with estimated annual salary, based on self-reported data from PayScale (2020):
| Specialization | Average Salary |
| --- | --- |
| Forensics | $90,114 |
| Pediatrics | $84,516 |
| Clinical Supervision | $83,176 |
| Health and Wellness | $82,347 |
| Cognitive Behavioral Therapy | $80,699 |
Most Popular Work Environments for Clinical Psychologists
Clinical psychologists work in a variety of settings (BLS 2018):
| Industry | Percentage of employed Clinical Psychologists |
| --- | --- |
| Self-employed workers | 29 percent |
| Elementary and secondary schools; state, local, and private | 24 percent |
| Ambulatory healthcare services | 18 percent |
| Government | 10 percent |
| Hospitals; state, local, and private | 6 percent |
Career Outlook for Psychologists
So how fast is this career really growing? According to the BLS (2019), there is expected to be a 14 percent increase in psychologist jobs (clinical, counseling, and school) between 2018 and 2028. That translates into 26,100 vacancies nationally that will need to be filled. Job growth for clinical psychologists will outpace most other jobs, as the national average is only 5 percent per year.
Demand for clinical psychologists is high because of increased awareness and emphasis being placed on mental health. According to the National Institute of Mental Health (NIMH), nearly 19 percent of the population has some form of mental illness, which is more than 46 million people. Of those people, more than 40 percent have accessed mental health services, many of which are provided by clinical psychologists.
Becoming a clinical psychologist takes between ten to 12 years of education. Professionals in this field not only need to complete a master's in psychology but they must also complete either a doctor of psychology (PsyD) degree or a doctor of philosophy in psychology (PhD).
According to the APA, those with a PhD earn $85,000 per year on average compared to only $75,000 on average with a PsyD. Since licensing is mandatory in all 50 states, aspiring professionals will need to meet their state's requirements regarding testing and education.
Clinical psychology can be a rewarding career for those interested in helping others overcome their mental health disorders. High job satisfaction, high demand, and good pay make this a strong career choice.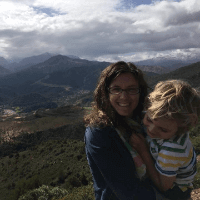 Kimmy Gustafson
Writer
Kimmy is a freelance writer with extensive experience writing about healthcare careers and education. She has worked in public health, at health-focused nonprofits, and as a Spanish interpreter for doctor's offices and hospitals. She has a passion for learning and that drives her to stay up to date on the latest trends in healthcare. When not writing or researching, she can be found pursuing her passions of nutrition and an active outdoors lifestyle.