"Through very simple procedures, like ear tubes, tonsillectomy, or airway evaluations, we can provide families and children with really meaningful differences in their quality of life,"
Dr. Nathan Gonik, Chief of Pediatric Otolaryngology at Detroit Medical Center's Children's Hospital of Michigan
Ear, nose, and throat (ENT) disorders are the primary reason kids visit their pediatrician, according to the American Academy of Otolaryngology. Each year, February is designated at Kids ENT Health Month to bring awareness to the myriad of issues children can face.
While some of these issues can be relatively minor such as a simple ear infection, others require the assistance of a pediatric otorhinolaryngologist (also known as a pediatric ENTs). Dr. David Mener of ENT and Allergy Associates of New York shares, "Children can get recurring issues, whether it be ear infections, sleep issues, congestion in the nose, or allergies. There is no reason for any child to suffer from these conditions because we have workups and appropriate solutions. Whether they are treated medically or surgically, we're here to help and we want to make children comfortable, and happier. We want to do everything to promote their health."
According to Dr. Nathan Gonik, a pediatric ENT at Detroit Medical Center's Children's Hospital of Michigan, the first step towards improving kids' ENT health is to "normalize and draw attention to conditions that people may be afraid to discuss or bring up. Kids that are dealing with issues that can have lifelong consequences and are very taxing for families and children. We need to champion and help support families who are really struggling with ENT-related issues."
Thankfully, there are excellent treatments and good prognoses for many of the ENT issues that kids face. "Through very simple procedures, like ear tubes, tonsillectomy, or airway evaluations, we can provide families and children with really meaningful differences in their quality of life," says Dr. Gonik.
The primary focus of Kids ENT Health Month 2022 is on preventing noise-induced hearing loss in children. Between 12 to 15 percent of children have some level of hearing loss that is noise-related, and completely preventable. Parents and caregivers are urged to provide kids with hearing protection in noisy environments and carefully monitor the sound level of headphones and earbuds.
Keep reading to learn more about kids' ENT health issues for two outstanding experts in this field.
Meet the Experts: Dr. David Mener and Dr. Nathan Gonik
David Mener, MD
Dr. David Mener is a pediatric otolaryngologist, ear, nose, and throat doctor in New York for ENT and Allergy Associates. He completed medical school at the University of Rochester and his residency in otolaryngology-head and neck surgery at the Johns Hopkins Hospital. Subsequently, he completed a fellowship in pediatric otolaryngology at John Hopkins Hospital.
He is a member of the prestigious American Academy of Otolaryngic Allergy and holds board certification from the American Board of Otolaryngology – Head and Neck Surgery.
Nathan Gonik, MD, MHSA, FAAP
Dr, Nathan Gonik is the chief of pediatric otolaryngology at Detroit Medical Center's Children's Hospital of Michigan. He completed medical school at Wayne State University School and his residency in otolaryngology) at Albert Einstein College of Medicine. He completed a fellowship in pediatric otolaryngology at the University of Michigan/Mott Children's Hospital.
While he is a specialist in all things ear, nose, and throat related for kids, Dr. Gonik's clinical focus is on aerodigestive concerns. Presently, he is the co-director of the Aerodigestive Clinic at Children's Hospital of Michigan, where children receive specialized care in breathing, speaking, swallowing, and nutritional issues.
Most Common ENT Issues in Kids
According to Dr. Gonik, kids face a wide variety of ENT issues: "One thing people should know about the field of ENT is the breadth," says Dr. Gonik. "When you can break it down, we are caring for the ear, nose, and throat. In terms of the ears, we deal with everything ranging from recurrent infections to congenital hearing loss. As ENTs, we perform procedures as simple as placing ear tubes to procedures as complicated as placing cochlear implants."
He continues, "When you think about the throat, we perform simple tonsillectomies and help kids that have issues with sleep, sleep apnea, snoring, and recurrent infections. We also care for more complicated cases such as reconstructing airways that are scarred after having to be intubated at a very young age. In terms of the nose, our care spans the realm of congenital anomalies to allergies, trouble breathing through their nose, or reconstructing defects from birth."
There is one common ENT issue Dr. Mener thinks often goes unnoticed. "I see a lot of children with sleep apnea. It's an overlooked issue in the pediatric population. Some of the cardinal symptoms that parents report to me are restless sleep at night or gasps for air. Snoring is probably the most common symptom. Also, parents report congestion in the nose. I will order a sleep study which will show their breathing patterns during different phases of sleep to obtain a diagnosis."
Collaborative Care is Key for ENT Health
Many ENT issues kids face can be treated by their pediatrician. However, acute or chronic problems may require the care of a specialist because they can have long-term consequences if not treated appropriately.
"We often see kids after they've struggled a long time. They have been working with their pediatrician with issues that have been causing them significant distress and really weighing on families. We appreciate the really high-quality pediatric care kids receive before children get to us. We see ourselves as helping pediatricians find the next best step in treating these kids that are really struggling," says Dr. Gonik.
Dr. Gonik is the co-director of the Aerodigestive Clinic at Children's Hospital of Michigan, where he treats many of these more complicated cases. "ENT as a field has embraced the concept of multidisciplinary care. We often work hand in hand with other specialists from pediatric backgrounds.
"For instance, in our clinic where we see complicated kids with a lot of comorbidities and other medical problems, we work with gastroenterologists, pediatric pulmonologists, pediatric speech pathologists, pediatric nutritionists, and respiratory therapists. We see the patients together in a single clinic, and if we have to operate on them we will often operate on them together, reducing their anesthesia. Helping coordinate care with the pediatric specialist is very important to us," he says.
Why Prevention and Awareness for Kids ENT Issues is Important
Ear infections, runny noses, and coughs are all common childhood ENT issues. But what happens when they are chronic?
Dr. Mener warns that leaving issues untreated can have long-term consequences. "Children that have fluid in their ears either from ear infections or just the pressurization of the ear not working properly, can lead to mild to moderate hearing loss in some children. Sometimes effusions in the ear can persist for several months, even after an initial infection," he says.
It is essential that parents and pediatricians know how to spot chronic problems and treat them early. "The younger years are really critical years for speech and language development. Hearing loss can be a barrier to that development. There is a high number of children that have fluid in their ears. It's more common than we think," says Dr. Mener.
How to Support Kids ENT Health
Parents, caregivers, and family members all need to be keenly aware of ENT issues in their kids: "It's important to be an active stakeholder in your kids' lives. Pay attention if you feel something is off in terms of their ability to function well, whether it's hearing, performing well in school, sleep, or having behavior or developmental issues. Be active in pursuing care through your pediatrician and eventually through an ENT if they feel those issues are affecting their development," says Dr. Gonik.
Dr. Mener further stresses that "regular routine pediatric care is very important. I think children that are not articulating their speech well or don't have a strong vocabulary should get an early intervention evaluation to see what they would benefit from speech therapy. And as part of that evaluation, we usually recommend other testing just to make sure we're not missing anything that could be contributing factors to their development," he says.
Initiatives like Kids ENT Health month can help to bring more awareness to the problems kids face, how to spot them, and what next steps to take.
"A lot of parents are unaware of how common these issues are or even what signs and symptoms to look out for. Some parents think that all snoring is normal, and to an extent it is, but it's important to know what can be considered normal and when it requires an investigative workup. The same thing with speech and language delay. Many children can have speech and language delays at some point, but making sure it's not due to some underlying processes, such as hearing loss, is really critical," says Dr. Mener.
Pediatric ENT Resources
Interested in learning more about Kids ENT health? Here is a list of resources: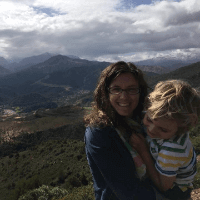 Kimmy Gustafson
Writer
Kimmy is a freelance writer with extensive experience writing about healthcare careers and education. She has worked in public health, at health-focused nonprofits, and as a Spanish interpreter for doctor's offices and hospitals. She has a passion for learning and that drives her to stay up to date on the latest trends in healthcare. When not writing or researching, she can be found pursuing her passions of nutrition and an active outdoors lifestyle.