We're making a lot of progress towards individualized nutrition by really looking at the whole person rather than focusing on the limitations of their general diagnosis.
Audrey Laurelton, Registered Dietitian Nutritionist (RDN)
The field of nutritionists and dietitians is one of the fastest-growing careers in the United States—not surprising at a time when one of the nation's biggest health problems, obesity, is also increasing.
The pandemic of overweight and obese adults and children has created a worldwide health crisis. The National Center for Health Statistics (NCHS) shows a staggering 39.8 percent of adults and 18.5 percent of youth were diagnosed as obese in 2016 (CDC 2017). In isolation, these are alarming statistics, but further information from the Centers for Disease Control (CDC) demonstrates there is more cause for concern: obesity-related conditions such as heart disease, stroke, type 2 diabetes, and certain cancers are the leading causes of premature death in the United States (CDC 2016).
More illness means more medical costs. The National Center for Biotechnology Information estimates that $190 billion dollars a year are spent on healthcare costs related to obesity, about 21 percent of the amount spent annually on healthcare in the United States (NCBI 2016). These alarming statistics beg the question: what are the causes of this sudden increase in weight-related illnesses in the U.S.?
In short, the number of people who are overweight and obese has grown because of major changes in daily habits. People are consuming more food and getting less exercise (WHO 2018). While these factors are rooted in personal habits, institutional considerations also play a part. Economic growth, industrialization, and the automation of tasks have led to unprecedented levels of sedentary habits. These societal changes partnered with an increased availability of processed foods and an overall lack of health-oriented policies in city planning, health education, and marketing are also responsible for making people less active and, as a result, sick.
In other words, some facets of modern life are largely incompatible with maintaining a healthy lifestyle. Profit-driven decision making is valued over the physical, financial, and psychological health of people. As waistlines continue to expand, so does the confusion about what it means to be healthy.
In the midst of this confusing crisis, people are asking: who can they trust to help them live healthier lifestyles?
Nutrition: A Growing Field
At a time when preventable disease is at an all-time high, it should come as a relief that the number of qualified nutritionists and dietitians is also rising. Dietitians are experts in dietetics, the study of diet and its effects on health; they teach people how to live healthy lifestyles by empowering them with knowledge of food and exercise. Dietitians work with patients to provide diagnostic health assessments, create dietary plans customized for individuals, and provide one-on-one counseling and support.
The Bureau of Labor Statistics (BLS) estimates 8,000 new dietitian and nutritionist positions will be created between the years 2018 and 2028, a rate of 11 percent, which is much faster than the national average of all occupations (BLS 2019).
Becoming A Nutritionist or Dietitian
An RDN typically holds a bachelor's degree in dietetics, nutrition, public health, or a related field. College and university programs in dietetics are accredited by the Accreditation Council for Education in Nutrition and Dietetics (ACEND), which is part of the Academy of Nutrition and Dietetics (AND).
Most states require nutritionists to be licensed as registered dietitian nutritionists (RDNs), a professional designation which requires 1,200 supervised practice hours to be earned through an internship after completing a bachelor's degree in dietetics. RDNs must maintain their credentials by completing 75 continuing education credits every five years, in addition to any licensing requirements put forth by their state.
Certifications & Specializations for Nutritionists
After completing a bachelor's degree in nutritional science, dietitians or nutritionists may choose to further their education through pursuing advanced degrees in dietetics or opting to earn certifications in areas of specialization including diabetes, holistic, and integrative nutrition. Here is a list of professional organizations for nutritionists and the specializations they offer:
The Academy of Nutrition and Dietetics (AND) offers certificates of training in integrative nutrition, health and wellness, food allergies, and other specializations, this is the world's leading professional organization for food and nutrition professionals and oversees licensing for RDNs.
The American College of Healthcare Sciences (ASHS) offers diplomas, degrees, and certificate programs in holistic nutrition.
The Commission on Dietetic Registration (CDR) offers board-certified specializations in gerontology nutrition, oncology nutrition, obesity and weight management nutrition, pediatric and critical care nutrition, renal nutrition, and sports dietetics.
The National Association of Nutrition Professionals (NANP) offers board examinations in holistic nutrition.
Holistic vs. Integrative Nutrition
Two of the most popular specializations in nutrition are holistic and integrative. Given the similarities of these two specializations, many people wonder: what differentiates holistic from integrative nutrition?
First and foremost, they are distinctive specializations given by different professional organizations. As mentioned above, the holistic specialization can be earned through the National Association of Nutrition Professionals (NANP), while the integrative specialization is earned through the Academy of Nutrition and Dietetics (AND), the professional organization which accredits nutritional education programs and provides licensure standards for RDNs.
Secondly, holistic nutrition focuses on the comprehension of interconnected elements of nutrition, while integrative nutrition strives to unite the many parts of a whole that comprise nutrition. The AND provides information on the Dietitians in Integrative and Functional Medicine (DIFM) specialization, a specialty practice group of nutrition practitioners centered around a holistic approach to health and healing.
It is worth mentioning that holistic nutrition is a popular discipline included in health coach certification programs such as the one offered by the Institute of Integrated Nutrition (IIN). These types of health coach training programs teach holistic nutrition and award health coach certificates but differ from the educational programs accredited by Academy of Nutrition and Dietetics (AND), which enable graduates to earn an RDN credential, a legally protected title required in many states for professional licensure in nutrition.
Meet the Mentor: an Interview with Audrey Laurelton, Integrative RDN
Audrey Laurelton shares how she began her professional journey as an integrative registered dietitian nutritionist (RDN) and provides hopeful insights for the expansion of nutritionist services in the United States.
Ms. Laurelton got started in the profession of nutrition through the Institute of Integrated Nutrition (IIN), an online nutrition school that awards certificates in health coaching. She learned a lot through that program, but revealed that "it was the tip of the iceberg, and I wanted to know more in order to safely work with people, many of whom have a chronic health condition."
What is an Integrative RDN?
Ms. Laurelton explained, "Once you become an RDN, there are different opportunities to expand and specialize by getting a certificate in culinary nutrition, chronic kidney disease nutrition management, food allergies, obesity interventions for adults, and others. Integrative and functional nutrition is one of the specializations."
Ms. Laurelton earned her integrative and functional nutrition specialization through the Academy of Nutrition and Dietetics (AND) and as is required of all RDNs, she submits her 75 hours of continuing education credits every five years to the Commission on Dietetic Registration (CDR).
A common saying to help distinguish nutritionist credentials is this: "Dietitians (i.e. RDNs) may call themselves nutritionists, but not all nutritionists are dietitians." Ms. Laurelton went on to explain that "An RDN requires more years of nutrition-specific education and certifications. RDNs are also licensed to practice medical nutrition therapy (MNT), which serves to help patients understand how acute and chronic disease manifests at the clinical, metabolic, and systemic levels."
A Day in the Life of an RDN
"It completely depends on your work setting," Ms. Laurelton said. "I started out as a per diem (i.e. short-term temporary) clinical dietitian at a hospital. These positions aren't typically fully utilized, but the hospital was short-staffed, so I worked three to four days a week with an 18 patients-per-day requirement. I provided nutrition education, reviewed any food and medication interactions with patients, and wrote diet orders and notes for each patient."
She spoke about other common work environments for nutritionists: "Nursing homes and schools employ nutritionists and grocery stores are beginning to offer medical nutrition therapy programs. Nutritionists working in grocery stores offer one-on-one counseling, teach consumer skills by comparing different types of featured products within the grocery store such as yogurts, and even provided guided shopping services where a dietitian takes you around the store and teaches people how to read food labels and shop for healthy food."
Grocery store dietitians are an emerging trend in grocery stores such as ShopRite and Ms. Laurelton hopes that more grocery stores will continue the trend of employing RDNs and that people will take advantage of these great nutritional learning services, which according to her, are "grossly underutilized." She added, "Grocery stores are offering dietitian services which normally costs $100 per hour for free, and it's hard to believe that more people aren't using them."
These days, Ms. Laurelton has her own private practice in nutrition, which is yet another career option for dietitians and nutritionists. She empowers people to live healthfully through science-based nutrition, individualized counseling, and nutrition courses. To make nutritional science accessible, she provides free resources in the form of recipes on her professional website and an e-book titled: Kids in the Kitchen: Fun and Easy Recipes Your Kids Will Love to Make… and Eat!
She has plans to expand her online offerings with a membership that provides resources for specific nutritional needs. She also wants to launch a series of videos teaching basic cooking skills.
Most Rewarding Aspects of Being an RDN
Without hesitation, Ms. Laurelton answered: "Helping people feel better!" She shared her satisfaction in being able to help a client who was experiencing bloating, cramping, and other digestive troubles after being diagnosed with irritable bowel syndrome (IBS). Through working with this client, Ms. Laurelton was able to help determine that she was lactose intolerant. Once she knew the source of her symptoms was from consuming dairy products, she was able to make changes in her diet and feel better.
Most Challenging Aspects of Being an RDN
"For me, I feel like time and access are the biggest challenges," Ms. Laurelton said. "When nutritionists are expected to see 18 patients in a day and make notes after each patient session, you don't get to spend the amount of quality time with people that you'd like to in order to provide effective nutrition counseling."
Another challenge is dealing with insurance company policies that limit patients' abilities to access dietitian services as preventative care. Ms. Laurelton once worked with a client who wanted to use insurance to pay for dietitian services as preventative care, but the client's insurance policy only allowed three visits per lifetime per condition. Even though the client showed symptoms of being pre-diabetic, since the client was not yet diagnosed with diabetes, they were not able to use their three health visits to proactively prevent themselves from developing type 2 diabetes.
"Insurance and financial limitations can make it impossible to obtain desperately needed nutrition services," Ms. Laurelton said. She remains hopeful that people who need nutrition services the most will be able to access them as the field finds new and creative ways, such as supermarket RDNs.
Degree Programs for Aspiring RDNs
"I had a bachelor of arts degree, so I went back to get a bachelor of science," Ms. Laurelton explained. "I needed 75 more credits and I chose an ACEND-accredited program at a local state school. For the required internship program, I opted for a private school that arranged the details of my RDN internship."
Ms. Laurelton went on to say that required internships to become an RDN can be very competitive and complicated to organize; educational institutions may even expect students to arrange their own internships. In speaking about the nutritional program curriculum, she said, "Many students are surprised to learn that 40 percent of the courses cover food management, and the other 60 percent of the program is medical nutritional therapy and working with patients."
Advice for Aspiring RDNs
Ms. Laurelton's enthusiastic response was: "Go for it! This is a rewarding field that has a lot of career options and the field of nutrition is trending towards preventative care, which expands the opportunities to work with people who need help and provide more dietary support programs."
Beyond seeing patients, there's also a growing need for public and patient advocacy. Ms. Laurelton said, "Dietitians are frequently involved with public policy. There are many programs such as the Supplemental Nutrition Assistance Program (SNAP), Women Infants and Children (WIC), and the National School Lunch Program (NSLP) that greatly impact millions of people's nutritional health status—for better or worse—depending on how they're funded."
Lastly, Ms. Laurelton recommended the following advice for aspiring RDNs: "Don't be afraid to relocate for your internship. Your options can be competitive and limited if you aren't open to travel."
Simple Tips to Improve One's Nutritional Health
Ms. Laurelton recommends three ways to feel better now to all of her current and prospective clients which are covered in greater detail on her website:
Stabilize your blood sugar
Hydrate
Get enough rest
The Future of Integrative Nutrition
In the face of dire health statistics, Ms. Laurelton remained optimistic for the future of the field: "We're seeing a lot of trends towards individualized nutrition—really looking at the individual person and their specific biology rather than general diagnosis and one size fits all treatment plans."
While most Western medicinal practices have been treating symptoms with medication, Ms. Laurelton said that, "Integrative RDNs look at digestion, environment, diet, and genetics—the whole person rather than prescription medications as the first and sometimes the only option. The first level of prescription for any chronic disease should be diet and exercise. It should be explored, preferably with a nutritional professional, before prescription drugs are prescribed."
Ms. Laurelton hopes that more people will be inspired to join the expanding field of nutrition. A real difference can be made in patients' lives by contributing time and talent towards helping people feel better through increased access to integrative nutritional services.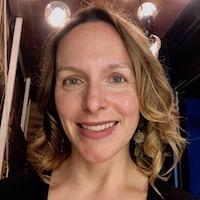 Rachel Drummond
Writer
Rachel Drummond is a freelance writer, educator, and yogini from Oregon. She's taught English to international university students in the United States and Japan for more than a decade and has a master's degree in education from the University of Oregon. A dedicated Ashtanga yoga practitioner, Rachel is interested in exploring the nuanced philosophical aspects of contemplative physical practices and how they apply in daily life. She writes about this topic among others on her blog (Instagram: @racheldrummondyoga).